ANDROID

by Google
Android is a user-friendly Linux-based operating system for smartphones and tablets with over 300,000 applications, many available for free. Android provide users with a very intuitive experience and is tightly integrated with Google Navigation, Google image search, YouTube and more. Android offers users on-screen widgets that can provide 'real-time' information on the device without having to open the application. Users can keep up-to-date on their Facebook and Twitter accounts and have email pushed to their devices. Android also allows users to personalize their phone/tablet by putting apps where they want them to allow for quick access. With devices such as FlyTouch 4 touchpad pc additional functionality is enabled like tethering (or portable Wi-Fi) and video calling.
FLASH SUPPORT
Android is the first operating system for tablet pcs like Flytouch 4 to support flash content!
New User Features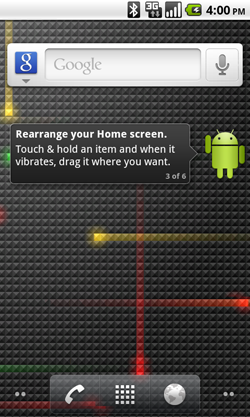 New Home screentips widget assists new users on how to configure the home screen with shortcuts and widgets and how to make use of multiple home screens.
The Phone, applications Launcher, and Browser now have dedicated shortcuts on the Home screen, making it easy to access them from any of the 5 home screen panels.




Exchange support

Improved security with the addition of numeric pin or alpha-numeric password options to unlock device. Exchange administrators can enforce password policy across devices.
Remote wipe: Exchange administrators can remotely reset the device to factory defaults to secure data in case device is lost or stolen.
Exchange Calendars are now supported in the Calendar application.
Auto-discovery: you just need to know your user-name and password to easily set up and sync an Exchange account (available for Exchange 2007 and higher).
Global Address Lists look-up is now available in the Email application, enabling users to auto-complete recipient names from the directory.
Camera and Gallery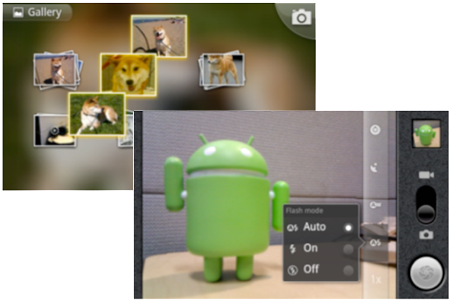 Gallery allows you to peek into picture stacks using a zoom gesture.
Camera onscreen buttons provide easy access to a new UI for controling zoom, flash, white balance, geo-tagging, focus and exposure. Camcorder also provides an easy way to set video size/quality for MMS and YouTube.
With the LED flash now enabled for the Camcorder, videos can be shot at night or in low light settings.
Portable hotspot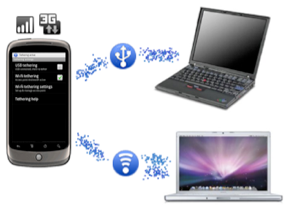 Certain devices like the FlyTouch 4 can be turned into a portable Wi-Fi hotspot that can be shared with up to 8 devices.
You can use your Android-powered tablet pc as a 3G connection for a Windows or Linux laptop by connecting their phone to the computer with a USB cable. The connection is then shared between the two devices.
Multiple keyboard languages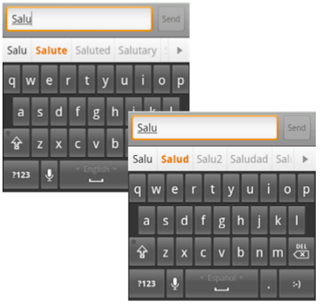 Multi-lingual users can add multiple languages to the keyboard and switch between multiple Latin-based input languages by swiping across the space bar. This changes the keys as well as the auto-suggest dictionary.
Improved performance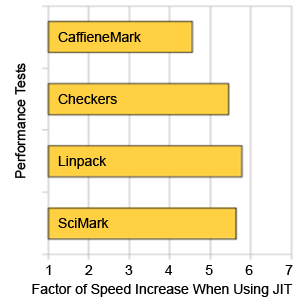 Performance of the browser has been enhanced using the V8 engine, which enables faster loading of JavaScript-heavy pages.
Dalvik Performance Boost: 2x-5x performance speedup for CPU-heavy code over Android 2.1 with Dalvik JIT.
The graph to the right shows the performance speedup from Android 2.1 to Android 2.2 using various benchmark tests. For example, LinPack is now more than 5 times faster.
Kernel Memory Management Boost: Improved memory reclaim by up to 20x, which results in faster app switching and smoother performance on memory-constrained devices.
New Platform Technologies
Media framework
New media framework (Stagefright) that supports local file playback and HTTP progressive streaming

Continued support for OpenCore in Android 2.2
Bluetooth
Voice dialing over Bluetooth

Ability to share contacts with other phones

Support for Bluetooth enabled car and desk docks

Improved compatibility matrix with car kits and headsets
|